The holiday season is a time of magic and wonder, and nowhere is that more apparent than in downtown Rock Hill, South Carolina during ChristmasVille. This annual celebration transforms the heart of the city into a winter wonderland, drawing visitors from near and far to partake in the joyous festivities. Join us as we take you on a virtual journey through the enchanting world of ChristmasVille, where twinkling lights, joyful carolers, and the spirit of giving combine to create a truly memorable holiday experience.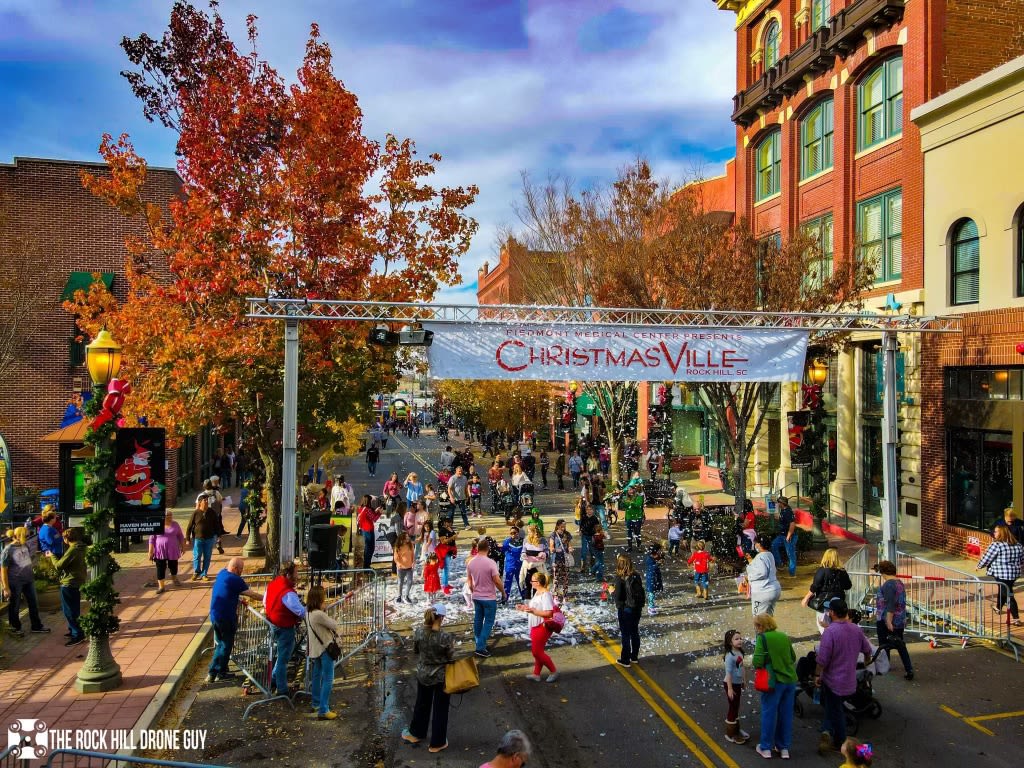 Inspired by Rock Hill's adopted son Vernon Grant, children's illustrator and artist of Kellogg's® Rice Krispies Snap!® Crackle!® and Pop!®, in celebration of the beloved artist, downtown Rock Hill comes alive each winter as a charming, picturesque holiday village and outdoor art festival with festive holiday decorations, gnomes, and, of course, Santa himself. Vernon Grant said "Christmas is the season of wishes" and this year the city plans to show how EVERYONE, regardless of age, ethnicity, socio-economic status, or background feels welcome in ChristmasVille!
ChristmasVille kicks off November 30th and runs until December 3rd, allowing visitors ample time to immerse themselves in the festive atmosphere. The event is a comprehensive celebration of the holiday season, and its schedule is packed with over 70 activities for all ages. Highlights include the annual parade, tree lighting ceremonies, horse-drawn carriage rides, historic tours, carolers, gingerbread house making competitions, and an outdoor ice skating rink!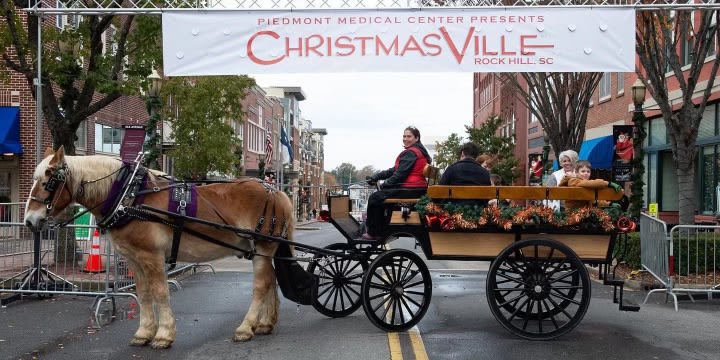 One of the most captivating aspects of ChristmasVille is the dazzling display of holiday decorations and lights that highlight the streets of downtown Rock Hill. The entire area is transformed into a glittering spectacle, with trees wrapped in shimmering lights and storefronts adorned with festive decorations. The sight of the town square illuminated in a warm, inviting glow is truly a sight to behold.
The centerpiece is the city's massive Christmas tree in Freedom Park, which serves as a gathering point for visitors. Towering high and decorated with ornaments, it's the perfect backdrop for holiday photos and a great spot to soak in the seasonal ambiance.
The ChristmasVille Parade is a highlight that draws crowds of all ages. Families line the streets, bundled up in their winter gear, as colorful floats, marching bands, and, of course, Santa Claus himself make their way through downtown Rock Hill. The joy and excitement in the air are palpable, as children eagerly await a glimpse of the jolly old man in his red suit.
One of the great joys of ChristmasVille is the opportunity to shop for unique gifts and holiday treasures. Local businesses and vendors set up shop, offering a wide array of items, from handmade crafts to delectable treats. The festive atmosphere encourages visitors to support local businesses and find that perfect holiday gift for their loved ones. Whether you're looking for handmade ornaments, custom jewelry, or scrumptious holiday snacks, you'll find a wide range of offerings that reflect the creativity and talent of the Rock Hill community.
Gather your family and friends and visit Rock Hill during this limited time event!
Visit www.christmasvillerockhill.com for more details and check out The Rock Hill Drone Guy's video of last year's ChristmasVille Parade.
Photos and video courtesy of The Rock Hill Drone Guy.